Football: Monday Morning Quarterback
August 24, 2014

By Kevin McCloskey of Western Alamance High School
The clock went to 0:00 as Cummings crossed the goal line to close the gap to 5 points.
The referee waved his arms and said, "Game over."
The Warriors won the 2014 Endowment Game by a score of 30-25 over the Cummings Cavaliers.
Those are the facts. Those are the things you could read about in the Burlington Times-News on Saturday morning.
But what you couldn't read about in the newspaper was the "surreal" feeling that hung in the air after the victory was etched into the record book. We won the game, but there wasn't a lot of jubilation like the kind that typically follows a win over a crosstown rival. It just wasn't that kind of game.
It wasn't a heart-pumping, nail-biting, thrilling finish. Nor was it a big-time blowout, "Lets Make A Statement" kind of win. Beginning midway through the 3rd quarter, the outcome was never really in doubt. But Cummings sure did make it interesting and, hopefully, exposed some things that we can work on in order to become a better team as the season progresses.
We woulda/coulda/shoulda pulled away in the second half and cruised to a large margin of victory. But I also woulda/coulda/shoulda become a brain surgeon. Obviously, that didn't happen either. Just goes to show you that things don't always go as you expect.
But it counts. And there were several bright spots. And we learned some things. We learned where we need to improve. And we learned that we need to finish the game.
---
Before we dig into the Warriors play, lets talk about the Cavaliers.
We heard some rumors about Cummings improved play following the jamboree at SA a couple of weeks ago. To be honest.... I really didn't buy into the hype. Cummings has been on a steady decline over the past few years and their pool of elite talent appeared to have been significantly tapped out. Add in the departure of their legendary coaching staff (primarily head coach Steve Johnson and OC Jay Perdue) and, on paper, the Cavaliers were certainly looking at very difficult situation in 2014. I seriously figured they would struggle to a .500 record at best.
But new coach Jauron Holman is obviously doing something right. Cummings is a MUCH improved team over recent years. They still have a lot of physical talent, but not in the quantities of their glory years. What they do have, however, is a new attitude and sense of discipline. Very few silly penalties. Very few blown assignments. No finger-pointing nor in-fighting. In short... The Cavs are a very solid ballclub.
Cummings played smart. They stuck to their gameplan. And, most importantly, they did NOT quit.
How far will they go this season??? I have no idea. But after week #1, I have to say that if I were a Cavaliers' fan, I would feel very optimistic.
So congratulations and good luck Cavaliers! You earned my respect (and I'm sure the respect of the rest of Warrior Nation).
---
Now lets take a look at things from a Dub-A perspective.
Warrior Nation has some new "toys" this season. Most noticeable, is the new reusable "tear away" banner.
Pretty cool! But I have to admit that I'm a little "old school" with regard to the run-through banners. I'm a fan of the traditional paper banners that the cheerleaders used to make. You know what I'm talking about. Those taped-together monstrosities that flap in the fall breeze and contain clever & witty sayings like... "Burn The Devils" or "Neuter The Bulldogs." Oh well.... Progress is progresss I suppose.
Speaking of progress, there are 2 other new things that are definitely progress.
#1 is the new "Launch Pad" tarp that lays flat on the sideline at the 50-yard line. The "Launch Pad" is basically a tarp with squares on it that allow player position groups to come together prior to being sent onto the field. For example, the punt team can assemble on the "Launch Pad" and be ready to run into the game if the Warriors fail to convert on 3rd down. This will help avoid confusion and, potentially, silly penalties and/or wasted timeouts.
Finally, we have the new "Water Cow." Think of it as a plastic cow with "squirt guns" that represent the cow's udders. A pump keeps cold water circulating and provides an on-demand stream of hydration (through the udder) for up to 8 "Warrior Cows" at at time. Good stuff!
---
Enough about "Launch Pads" and cows! Now lets talk about what you (and I) really want to talk about... Warrior Football!!!
You know... Life would be rather bland without any surprises. Unfortunately, however, surprises can come in 2 forms: pleasant surprises and unpleasant surprises. And, from a Warrior perspective, we had a little of both on Friday evening. So lets do the dirty work and start by discussing the unpleasant surprises:
Punt team (as a group). There were several breakdowns that need to be addressed as a unit; without finger-pointing at specific individuals. They know it and they will work on it and they will fix it as a unit.
Pass coverage. Same thing. Cummings went 20/31 for 247 yards through the air. To be fair, however, there were some pass completions by Cummings that were not the result of bad WA coverage. The Cavalier receivers were tall and athletic and simply out-jumped and/or out-fought us for the ball. Just like the punt team, there are some things the DBs can do as a group (and individually) to somewhat counteract physical mismatches when we face them in the future. They can. And they will.
Vertical passing game. I can only recall a couple of Warrior completions of greater than 10 yards downfield. We did take a couple of shots downfield early on that were near misses. And we also had a couple of drops on intermediate pass plays. But, by and large, we couldn't get anything going downfield. Moving forward, we really need to get this aspect of the offense clicking. After watching the Warriors in the 7-on-7 scrimmages about a month ago, I know the talent and weapons are plentiful! I fully expect us to light it up next week!
Finish The Game! And while I cannot influence the outcome of the game, I am just as guilty as anyone when it came to thinking that we could just coast through the second half. After we went up 24-7, I took a look at the Cavaliers and saw a lot of hands-on-the-hips and sucking-of-air and said, "Stick a fork in 'em. They're done!" But to their credit, the Cavs were not done! At just about the same time that we took our foot off the gas pedal, Cummings stormed back with a vengeance! If there were another 5 minutes on the clock, things could have gotten really interesting. In the games to come, we all need to avoid complacency and take nothing for granted; especially our opponent.
One more thing to remember when pondering these "unpleasant" things....
THIS WAS GAME #1 PEOPLE! GAME 1!!
A perfect game is not to be expected. So if you were expecting mid-season form, then wait until mid-season. All-in-all, we played pretty well for a first game and here are some reasons why - aka - The "pleasant" surprises:
Pleasant Surprises:
Defensive Line!

The DL was hit hard by graduation last season and the position was a question mark coming into the 2014 season. Throw in the loss (for a few games) of one of our more promising young DL, Daniel Bratcher (broken forearm), and the '?' loomed even larger. But these guys showed up! And then some! The decision to play some of our larger & physically talented offensive players (Hunter Lent and Loften Johnson specifically) provided a huge payback. A grand total of 8 sacks/TFL's (my estimate) with

Lent

accounting for 5 of them (4 solos and 2 half-sacks). WOW! Great job.

Cody Walker

(part of the '?' DL). Specifically in the 1st half, Cody was everywhere. After watching game film, I counted 1 solo and 2 half-sacks. Great job and a very pleasant surprise to me!

AJ Love

- From the DB position, a very solid job in run support and also some nice pass coverage out in the flats. And AJ was mentioned in the "Quote of The Night" by our PA Announcer, Bobby Harmon. After one nice PBU by AJ, Bobby exclaimed, "Broken up by Love!" That just struck me as funny! :)

James Houser

! AKA - James Dean. #11 made me look good since I had previously I tagged him as "one to watch" after seeing immense improvement and growth in this young man. He gives us another bonafide receiving threat and has already earned a nickname.... "Welker" (as in Wes Welker). That's who comes to mind when I see him play. A little undersized. Not the fastest. But tough as nails and sure-handed. James had our 2 longest receptions on Friday evening. Rock on Jimmy Dean!
---
And now onto some guys who were not surprises (I already knew they were good), but who really stepped up and proved to everyone the level at which they are capable of playing.
DL Hunter Lent.
Not TE Hunter Lent.
Not P Hunter Lent.
But DL Hunter Lent.
In his first game as a defensive starter, Lent was a one-man wrecking crew. As previously stated: 5 sacks! 4 solo and 2 half-sacks. That's a lot! It may even be a record. If not, its darn close.
When I was reviewing the highlight clips, I noticed an odd occurrence. My clips are numbered sequentially and, typically, a player's highlights are spread out over the course of the game. However, Hunter owned the sequence of clips numbered 77, 78, and 79 with back-to-back-to-back sacks. That's just total domination!
---
And while he may be a surprise to some Warrior fans because this is his first full season at the varsity level, sophomore sensation Darius Pinnix was no surprise to me. This kid is a player!
Filling in for the injured Donavan Apple at RB, Darius ripped off TD runs of 38 and 6 yards along with several other bullish runs. I guess there was one pleasant surprise to me regarding Darius.... His speed. Now he's not a world-class sprinter, but he showed me something on the long TD run. For a guy his size, Darius can really move. And he was also a very strong contributor on defense, recording at least one TFL and several other tackles.
Watch him closely Warrior Fans! We've got him for 3 more years and he's going to be special.
One final thing regarding Darius.... I can no longer call him Darius. That's his given name but he also goes by BJ. Furthermore, he already has a nickname and has let me know that he prefers to be called by this nickname.
So henceforth, Darius (aka BJ) will be called "Poo Poo" as per his instructions.
Now I do not know the origin of the nickname "Poo Poo" so don't bother asking me to explain it. Some things are better off left as a mystery. So lets just enjoy our Poo Poo and be happy he's wearing Warrior Blue & White for the next 3 years!
---
Tyler Billings. Yes... THE KICKER!
If you have been a loyal MMQB reader over the past several seasons, then you know that I fully support and recognize the importance of special teams. And this season, we are blessed, yet again, with another excellent place kicker in Sr. Tyler Billings.
Tyler had an outstanding game! His kickoffs were deep with at least 2 touchbacks. His PATs were on the money (one was blocked/missed/muffed). And he had a 40 yard FG!!! That's really, really, really good for a high school kicker.
Later in the season, don't be surprised to see a game decided by the swing of Tyler's foot. And you can be confident that when he swings it, he will hammer the ball through the uprights.
---
Our senior LB duo of Blake Deatherage and Eli Gordon. To me they are....
Blakeman and Gordon
As a duo, perhaps the strongest unit on the Warrior squad. Both Blake and Eli had stellar games on Friday evening. The LB corps is the heart of any defense and we have a very strong heart!
Blake covers a little more ground than Eli.
Eli delivers a little more pop than Blake.
As a tandem, they complement each other very well. And after playing together for 4 years, they have a chemistry and communication that is unspoken.
Individually, they are very good. As a duo, they are great!
---
Offensive Line: Great job!
Anchored on the right side by seniors Ty Parker and Loften Johnson and complemented by younger guys such as Jayme Shoffner and Mark Wheeler, the "Water Buffalos" up front had a very strong outing.
To the best of my knowledge, they gave up zero sacks. They paved the way for 200+ rushing yards. And they were whistled for very few false starts and/or holding penalties.
As I say every year.... Its hard for me to see specifics of the OL play from the sideline. But the results speak for themselves.
Superlative effort by the OL!
---
Trey McCollum - Sporting his new Superman cleats, Trey almost had to be Superman in the second half.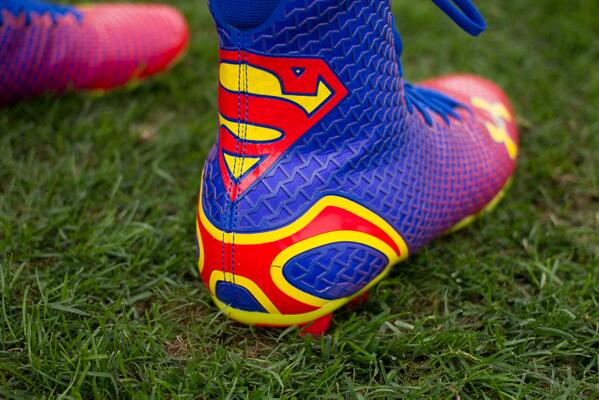 First Apple when down with back spasms.
Then Poo Poo had to sit out with lower leg cramps.
That left Trey as the defacto RB in addition to playing QB. While he didn't have his best night ever passing (8/19 for 96 yards and 1 TD), Trey's ability to run the ball effectively really kept the Cummings defense winded. Trey carried the ball 19 times for 108 yards. That's a workman like performance from the Jr. QB.
---
And I thought KC Okoronko played very well at RB late in the game. As previously mentioned, both Donovan and Poo Poo were hurting, so KC stepped up and did a very solid job; grinding out yardage and chewing up the clock. KC bulled his way into the endzone midway through Q4 to all but put the game on ice for the Warriors.
---
Britton "Bond" Smith had good production as our new primary kick returner. He had several nice returns and showed a flair for the dramatic by snatching the ball at the last possible moment and surprising the coverage team. There were 2 or 3 returns that were just a whisker away from being taken to the house.
It will happen this season so keep watching! Britton will return a kickoff and/or punt return for a TD!
---
Dylan Freeman - You all know Dylan's story. Dylan won't play a down for WA this season, but he sure can have an impact. Just his presence at the game on Friday evening was very uplifting & inspirational. Dylan had moved on before I got a chance to speak with him, but I'll be on the lookout in the weeks to come and will try to speak with Dylan and provide some updates on his recovery process.
Keep grinding buddy! We're all behind you! #wafamily
---
Now its time to look ahead and talk about...
Concerns Going Into Next Week:
I have just two:
Donovan's Health. Lets hope the back spasms do not become a lingering & long-term issue. Thankfully, we do have Poo Poo and KC to share in the pigskin toting duties.

Develop a killer instinct. No more taking teams for granted. One game was enough to teach us that. Looking ahead, we "should" handle Southern on the road next week. But we're also facing what appear to be much improved Williams and Graham teams in the upcoming weeks.
The other "unpleasant" things referenced above WILL BE corrected.
Of that, I am confident.
---
Final random thought.... Did you notice the field on Friday night??? Its in the best shape ever! Lots of hard (and good) work go into making Western Alamance a top-notch football program and the extra effort of the coaches and volunteers does not go unnoticed by me.
THANK YOU FOR ALL THAT YOU DO!!!!
---
Next Opponent: Southern Alamance
The Patriots were throttled pretty handily by Williams last week falling by a score of 42-20. I'm sure that will leave a bad taste in their mouth. Also leaving a very bad taste, was last season's double-overtime loss the the Warriors.

Make no mistake about it... We will get the Patriots best effort.

So while I know it's the Friday before a holiday weekend, we need all Warrior Fans to make the trip to the southern end of Alamance County and lets continue our march through the non-conference schedule!