Matt Berry - Rethinking My Rankings
August 26, 2013

By Gabe Measner of Gabe Measner Test Site
The risers
The obscure Patriots: They're not going to be obscure for long. I'm speaking specifically of Zach Sudfeld and Kenbrell Thompkins. Going undrafted a few weeks ago, these guys have shot up my rankings. If just showing up is half the battle, then three-quarters of the battle is showing up with Tom Brady throwing the ball your way. Sudfeld is the biggest climber for me as I now have him as a top-eight fantasy tight end. You heard me.
Did you see this Mike Reiss mailbag about Sudfeld on ESPNBoston.com? In essence, Reiss discusses the possibility of a Rob Gronkowski-Sudfeld tandem. He writes that, although Sudfeld doesn't have the elusiveness of Aaron Hernandez, he does have a bigger catch radius, and 6-foot-7 Sudfeld alongside 6-6 Gronkowski makes for a very interesting red zone package. Sudfeld is tall and athletic and has great hands and a pretty good quarterback, so there's no reason he couldn't put up top-eight numbers. Last year's No. 8 tight end was Owen Daniels, who had 716 yards and six touchdowns. You're telling me Sudfeld can't get that? Last year, the Patriots attempted the third-most passes to tight ends, despite Gronk and Hernandez missing a combined 12 games. And they've thrown the most passes to tight end in the past three years. Again, I ask you... You're telling me Sudfeld can't get 700 yards and 6 TDs? Add in the possibility of him being the Patriot's No. 1 tight end if (when?) Gronk misses time, and the upside is too great to ignore. TE is so deep that, if he doesn't work out, you can find another guy on the waiver wire. But the upside is worth the 12th-round pick, no doubt.
I have less to go on with Thompkins except that he is drawing rave reviews for his practice performance, he played the second-most snaps (behind Danny Amendola) with Brady in their second preseason game and, from what I've seen of him, I'm impressed. He's got a real shot at being the No. 2 receiver behind Amendola and, in the 13th round, where I have Thompkins, that's very much worth a flier.
Finally, I'll just say that the whole New England offense looks awesome so far this preseason, so I've moved Brady and Amendola up some, as well. I already had Stevan Ridley and Shane Vereen pretty high, so they stayed put.
[+] Enlarge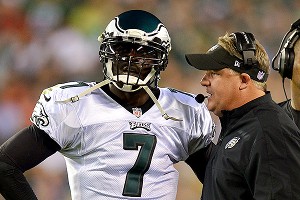 Drew Hallowell/Philadelphia Eagles/Getty ImagesIt's not like I'm telling you to take him No. 1 again or anything. And if he flames out, you can just blame Chip Kelly. Eagles fans will.
Michael Vick: Am I allowed to publicly discuss the fantasy prospects of Michael Vick yet? Is the moratorium over? Look, health is and always will be the issue with Vick, but now that he officially has been named the starter by head coach Chip Kelly, I moved him to 13th among quarterbacks. Between the running and the passing, Vick is the only quarterback going outside the top 10 who has legitimate top-five upside. The players around him, the high-tempo offense Kelly wants to run and his own talent make Vick (once again) a high-risk, high-reward player. I wouldn't want Vick as my No. 1 quarterback in a 10- or 12-team league, but as my No. 2 or in a deeper or two-QB league? Love the upside.
Golden Tate: I don't buy into the whole contract year thing, but given that this is Tate's walk year and consistency and maturity have been issues of his before, I believe what I hear from the local media covering the Seahawks. There has been a shift in Tate's attitude and focus. Percy Harvin's injury has helped Tate make his way up the depth chart, and, after a year in which he caught seven (or six, if you're a Packers fan) touchdowns, he's ready to take the next step in his fourth NFL season. The skills are there; he has looked great in limited preseason action; and, although I have him ranked as a 10th-rounder, right now he'll cost you just a 12th-rounder.
Maurice Jones-Drew: Guys, he's healthy. He's less than 12 months removed from leading the NFL in rushing. Whatever you think of the Jaguars' pass attack, it's better than it was in 2011, with the emergence of Cecil Shorts and Justin Blackmon (who will serve a four-game suspension to start the season, but that just means he'll be rested come Week 5!). When MJD led the NFL in rushing in 2011, the leading receiver of the Jags was Marcedes Lewis with 460 yards. MJD was third with 374 yards! Yeah. He won't see nearly as many eight-man boxes, and he keeps creeping up my ranks. I have him at 13 (he's currently going in the third round), and I suspect he'll be top-10 for me before the preseason ends.
Middle-round running backs: This just in! The earth is round, and there's a shortage of good running backs! So, chances are you're grabbing one or two backs in the middle rounds as your flex, for bench depth and upside plays, or as your starter if you screwed up the early rounds (Darren McFadden owners, I'm looking at you). Here are some of the middle-round guys I've moved up:
Daryl Richardson: He's going to be the starter, and, more important, I believe he'll keep the job and have success on an offense that's going to be better than you think. Not amazing, just better than you think.
Ahmad Bradshaw: Pep Hamilton ran the ball 55 percent of the time he was the offensive coordinator at Stanford with Andrew Luck as his quarterback. He wants to run the ball, and he doesn't want to get his quarterback killed, the way he was hit last year. Enter Bradshaw, who is a very good blocking back on a one-year contract. In other words, Bradshaw has something to prove and the Colts don't care if they run him into the ground.
Eddie Lacy: Think he has looked great so far, and it's not as though the Packers will lack in red zone opportunities.
Andre Brown: The Giants trust Brown more in pass protection, and he will be the red zone back, as well. This will be more of a time share than David Wilson owners want to admit to themselves. Still believe in Wilson's talent, but Brown is going to have flex value -- below flex prices.
DeAngelo Williams: Jonathan Stewart ain't right, and it's gonna be a long time before he is. Williams isn't what he once was, but he can still be very productive in this league and the price is right.
Mark Ingram: Finally healthy, I liked what I saw against the Raiders in their preseason game. Reports out of New Orleans are that they want to use Ingram even more, and people are so sick of him that he goes really cheap in drafts. Post-hype sleeper.
Giovani Bernard: He's even converting short touchdowns in the preseason! A sneaky good PPR play, he'll be more involved in the offense than you might think, even if BenJarvus Green-Ellis gets the early downs and red zone work. Every time I see him, I like him a little bit more and he scooches up the ranks.
The fallers
[+] Enlarge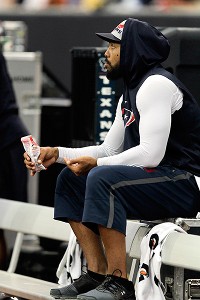 Bob Levey/Getty ImagesAn oldie but a goodie: Even Arian Foster can't put it in the end zone from the sideline.
Arian Foster: From No. 2 to No. 6. I reserve the right to change this rank (and probably will) multiple times before the start of the season. But when it's Aug. 20 and you still haven't gotten on a field, well, that raises some flags. The marks against him: the usage (most touches the past three years), the declining yards per carry, the presence of Ben Tate, the knowledge that the Texans have Super Bowl aspirations so they'll be super-cautious with him, plus all the injury concerns. That's enough for me to feel nervous about taking him at No. 2, especially when you have lots of good, safer options to choose from. He has been hurt early on before and turned in monster seasons, so I wouldn't be shocked if he did it again. Certainly he and the Texans have the talent. And hey, I have him at No. 6. Still pretty high, but not at No. 2. At 2, he gives me the heebie-jeebies, which is too a fantasy football term.
DeMarco Murray: We know he's injury prone; we know the Cowboys don't run that much (31st in the NFL in rush attempts last year); and we're not sure that will improve a ton now that Bill Callahan is calling the plays (Jason Garrett is still the head coach). But this story from ESPN Dallas is what gave me pause. In it, they describe Lance Dunbar having a "Darren Sproles" type role with Dallas. Now, Dunbar got hurt and might miss a game or two into the regular season, but still... It tells me that, in the abstract, they don't want Murray to be a three-down back and that he won't be as involved in the passing game as some initially thought. And again, they don't run. Plus, you know, the whole injury thing.
The rookie running backs (except Lacy and Bernard): I still expect Montee Ball to be the Broncos' red zone back, but Ronnie Hillman is still in the mix and Knowshon Moreno did a very good job last year, so he might be involved, as well. At this point, nothing suggests that Ball has the every-down job to himself, but he's being drafted as if he does. Meanwhile, I was down on Le'Veon Bell before the injury, but, now that he's missing six weeks, he is borderline undraftable in 10-team non-keeper leagues. The Steelers had trouble running the ball last year (3.7 yards per attempt, 28th in NFL, and only four teams had fewer rushing touchdowns than the Steelers); the offensive line problems don't appear to be solved; and, with no Mike Wallace to stretch defenses (will Markus Wheaton step up?), expect defenses to cheat up more. Add in Todd Haley's offense that wants to throw and the expected use of Jonathan Dwyer and Isaac Redman and this is a situation I do not want to be involved in for fantasy. I increased the ranks on Dwyer and Redman (in that order), but, man, this does not look pretty.
Trendy post-draft rookie sleeper Zac Stacy has done nothing this preseason, and the job is Richardson's. Stacy doesn't make my top 200 for re-draft leagues and the same can be said for Johnathan Franklin, who has Lacy and DuJuan Harris in front of him. I'm still ranking Franklin for now, but much lower than I did right after the NFL draft.
Vernon Davis: I'm lowering him partially because of the emergence of tight ends such as Sudfeld and Jordan Cameron with even more upside but also because of where you have to draft Davis, in the sixth. I remind you of these numbers: 14, zero, one, zero, one, two, zero. Those were his fantasy point totals after Colin Kaepernick took over. Yes, now there's no Crabtree and Davis had a great postseason, but we have no idea what the loss of Crabtree will do to Davis' production. It could be negative just as easily as it could be positive. Plus, all this talk of Davis lining up wide has people excited about him, but did you know he actually lined up as a "wide receiver" last year some? Per ESPN Stats & Information, he had 242 snaps last year when he lined up as a wideout. The result? Twelve receptions, zero touchdowns, 200 yards. Small sample size, sure, but then again, so was the postseason.
Darren McFadden: OK, I know, it's easy. He's injury prone. He was bad last year. Yeah, yeah, but the fact still remains that it's true. Did you see that game against the Saints? Seven sacks? McFadden gaining just 17 yards on five carries (3.4 yards per carry)? That offensive line looked brutal, and the loss of left tackle Jared Veldheer is bigger than you probably realize. I've seen McFadden go at the end of the second round in some drafts. I've now ranked him outside my top 70. I still might be too high on him.