BELGRADE — Oliver Carr knows his solid production is necessary if the Bozeman boys basketball team hopes to snap its two-year streak of missing the Class AA state tournament.
It showed up Saturday at the Belgrade Special Events Center. Carr scored 20 points, including 14 during the Hawks' game-turning 20-6 run to close the first half, and added seven rebounds and two steals as Bozeman (1-0) began the year with a 56-52 victory over the Panthers.
Carr's final rebound off an Angel Torres miss at the line led to teammate Brandon Keim's free throws and a 55-44 advantage with 52 seconds to play. Belgrade scored eight points in the final 34 seconds, but it wasn't enough.
"I try my best to just contribute when they find me in the post," the 6-foot-6 Carroll College commit said. "It was just a good first game for us to run the floor, go through our plays, get experience. We worked the kinks out; everyone contributed, which was good to see."
Carr knotted the game at 11 on a layup with less than a minute to play in the first quarter, and then added a put-back for a 13-11 lead after one quarter. He added a three-point play and another layup as Bozeman went ahead 20-13 before taking a 29-17 halftime edge.
The Hawks held a 34-21 advantage when the senior picked up his fourth foul, but Bozeman stayed ahead as Adam Huse, Caleb Weidenaar and Garrett Walters combined for eight points.
Belgrade (0-1) hit only three of eight shots and missed two free throws in the same timespan, and Carr dropped in a put-back for a 44-29 advantage. The Panthers trimmed their deficit to 46-36, but the visitors maintained control by sinking eight of 10 foul shots down the stretch.
"We were clutch," Weidenaar said. "Hit shots, free throws down the stretch. That's a good confidence boost for us, especially since it got close.
"We felt a lot smoother in the second half, looked more confident, played a little better. We certainly have things to work on, but I think it was a good first step."
Weidenaar scored all of his 10 points in the second half, while Huse added 11 and a team-best four assists and three steals.
Trevor Mahn (13) and Shiloh Christopher (11) led Belgrade.
Bozeman 56, Belgrade 52
Bozeman 13 16 11 16 - 56
Belgrade 11 6 8 27 - 52
BOZEMAN (1-0) - Adam Huse 5 2-2 13, Blake Dawkins 0 0-0 0, Aaron Weidenaar
1 0-0 2, Bennett Hostetler 1 0-0 2, Caleb Weidenaar 2 5-6 10, Will Dissly 1 0-0 2, Brandon Keim 0 3-4 3, Oliver Carr 6 6-10 18, Garrett Walters 3 0-0 6. Totals: 19 18-26 56.
BELGRADE (0-1) - Trevor Mahn 2 8-11 13, Brayden Konkol 2 0-0 4, Brandon Stubbs 1 1-3 3, Koby Ruff 1 0-0 2, Angel Torres 2 2-5 7, Ethan Turner 1 0-0 3, Shiloh Christopher 5 0-0 11, Keldon Lamb 0 0-0 0, Baxter Roys 3 3-6 9. Totals: 16 15-26 52.
3-point goals: Boz 2 (Huse 1, C. Weidenaar 1), Bel 3 (Mahn 1, Christopher1, Turner 1). Fouls: n/a. Fouled out: A. Weidenaar. Technicals: none
Gidal Kaiser can be reached at gkaiser@dailychronicle.com or 582-2670.
Hawks girls combine balanced offense, stout defense in rout
Bozeman's Hailee Olson makes a pass around Belgrade's Skyla Neubauer during the second half of a high school basketball game in Belgrade, Saturday, Dec. 7.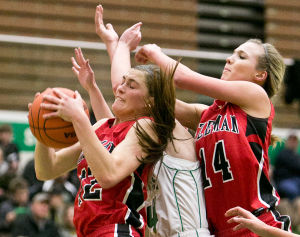 High School Basketball - Belgrade vs Bozeman Girls
Bozeman's Averie Collins battles for the rebound against Belgrade's Shaylee Ragar during the second half of a high school basketball game in Belgrade, Saturday, Dec. 7.
Posted:
Saturday, December 7, 2013 11:45 pm
BELGRADE — If there were any first-game jitters, Bozeman got over them quickly.
The Hawks broke the contest open with a 20-0 run that spanned the opening two quarters and rolled to a 61-21 win at the Belgrade Special Events Center. The Hawks (1-0) started and ended their run on points from sophomore forward Caitlin Lonergan, who netted 17 in her varsity debut.
Lonergan's offensive rebound and score with 5 minutes, 36 seconds to go in the opening frame pulled Bozeman to within 6-4, and then her free throws at the 6:04 mark of the second pushed the Hawks to a 22-6 advantage. Hailee Olsen's put-back gave Bozeman an 18-point advantage (24-6).
Belgrade sliced the deficit to 26-15 on a 9-2 spurt that included back-to-back 3s from Shaylee Ragar (six points) and Taylor Salsbury, but Bozeman used a 24-0 run to seal the game.
"It's a good place to start our season," junior forward Averie Collins said after posting 14 points and a career-high 19 rebounds and six steals. "We came out with a purpose and we played well together. I think we have really good chemistry."
The Hawks retained just three players (Collins, Jacey Delaney and Ellie Hawthorne) with significant varsity playing time from a year in which injuries wracked the lineup.
Yet several on Brad Rustan's varsity team have postseason experience with other teams — the junior duo of Collins and Delaney in soccer and Caitlin Lonergan and Tiffany Shearman in volleyball. Rustan noted that experience should help this team.
Plus, he added, the group gets along.
"They might not hang around together all the time, but this team really likes each other," Rustan said. "They all have the same goals, and we're close to getting on the same page."
Collins, Delaney and Lonergan were on the same page Saturday. The trio combined for 48 points and sank 19 of 29 field goals, with Delaney hitting four 3-pointers. Lonergan shot 70 percent from the field and added eight rebounds.
Collins' six steals were half of the Hawks' total. Bozeman forced 16 Belgrade turnovers and held the Panthers (0-1) to 18 percent shooting. Belgrade hit back-to-back 3s for a 6-2 lead at the 6:33 mark but didn't score for another nine minutes. After cutting Bozeman's lead to 11 in the third quarter, the Panthers went through an eight-minute scoring drought.
"I thought we played good the whole night," Delaney said. "We knew we couldn't underestimate Belgrade. We didn't play selfish, passed the ball around and worked as a team."
Bozeman 64, Belgrade 21
Bozeman 18 19 19 8 - 64
Belgrade 6 9 4 2 - 21
BOZEMAN (1-0) - Melanie Johnson 0 0-0 0, Jacey Delaney 5 1-1 14, Averie Collins 6 0-0 14, Caitlin Lonergan 7 3-6 17, Tiffany Shearman 2 1-1 6, Alyssa Nagel 0 0-0 0, Ellie Hawthorne 3 0-0 9, Hailee Olson 1 0-1 2, Emerald Toth 1 0-0 2. Totals: 25 5-9 64.
BELGRADE (0-1) - Kindall Bethke 1 2-2 5, Alexis Clingingsmith 2 0-1 4, Judy Taylor 0 0-0 0, Veronica Floyd 0 0-1 0, Taylor Salsbury 1 0-0 3, Skyla Neubauer 0 0-0 0, Madison Page 1 0-0 2, Tanna Holliday 0 0-0 0, Shaylee Ragar 2 0-0 6, Jamie Woolman 0 0-0 0. Totals: 7 3-9 21.
3-point goals: Boz 9 (Delaney 3, Hawthorne 3, Collins 2, Shearman 1), Bel 4 (Ragar 2, Bethke 1, Salsbury 1). Fouls: Boz 10, Bel 9. Fouled out: none. Technicals: none.