Happy Holidays
December 15, 2011

By coach Silva of Next Level Athletics Sports
In this update we will discuss our Winter Strength and Conditioning Camp, Gracie Barra/NLA Merger and 2012 NLA Official PlatinumSponsor Get Rx'd!
Winter Performance "SAC" Program:
This program has begun Fast and Furious at cinco ranch jr. high. Monday through Thursday from 6pm to 7:30pm our elementary to varsity starters are getting training that will make them better than anyone at the position they play.
This training will provide speed and power in ways that other programs cannot. Don't let the winter go by and not make the gains necessary to standout on your team. Our athletes no matter what age are the most prolific players in Katy. Whether you play football, baseball, soccer, softball or volleyball NLA will help you go from good athlete to complete player.
Our program is one of the only programs to train athletes from the pee wees to the pros with statistics that
DO NOT LIE!
If you are a varsity player or attempting to make the jump as an underclassman, then stop working out and start training!
Gracie Barra MMA/NLA Merger:
We are proud to a announce our NEW location for indoor training and strength/treadmill protocols! This state of the art MMA studio located at 21734 Provincial Blvd. in Katy is NOW the home of NLA!
All NLA training will relocate to
Gracie Barra
in 2012, we have a 2,000 sq. ft indoor turf workout area as well as a 2,000 sq. ft weight training center, also a 500 ft outdoor running area. Our ground performance programs are no additional charge to all NLA clients. If you choose to join us for the strength and treadmill program you will need to purchase a membership through GB MMA. So again, the 6pm to 7:30pm programs as well as our Summer Camps are no additional charge.
Please contact
Gracie Barra MMA
to enroll in their weight training facility and train with coach Rey in one of the best strength programs available. Our strength program produces some the the strongest athletes in the district!
Most strength programs focus on low reps and heavy weight that do nothing to condition the muscles to perform when it matters, late in the game when most athletes are just getting by. Our program actually improves anaerobic conditioning as well as making them the strongest at the required school benchmark lifts.
Now for Gracie Barra,the best in the business!
The MMA training at Gracie Barra is second to none! The name Gracie itself is a legend in the UFC World, Royce Gracie won the first ever UFC competition. The correlation between sports and MMA is shockingly similar.
The torque, leverage and core power is believe it or not the same. NFL athletes have trained as MMA fighters for years. NLA is a believer in MMA training as part of our program in the past has included MMA style training and NOW will offer it again with this facility available.
2012 Platinum Official Sponsor Get Rx'd:
We are also proud announce our newest sponsor
Get Rx'd
! They provide NLA with the latest training tools in science for the sport specific programming. There inventory is one of the best in the nation and available in Houston. They have a 20,000 sq. ft store with home and commercial use equipment that you normally only find online with massive shipping fees.
Rx'd is the only place NLA purchases the state of art equipment used to train all clients. No one and I repeat no one in the Houston Area carries the quality of equipment that Get Rx'd does!
Do your self a favor and see the massive inventory that is available. Contact Michael or Matt as they are handling all NLA clients!
All 2012 Training Protocols of NLA are of Get Rx'd equipment. From dumb bells to battle ropes Get Rx'd has it all.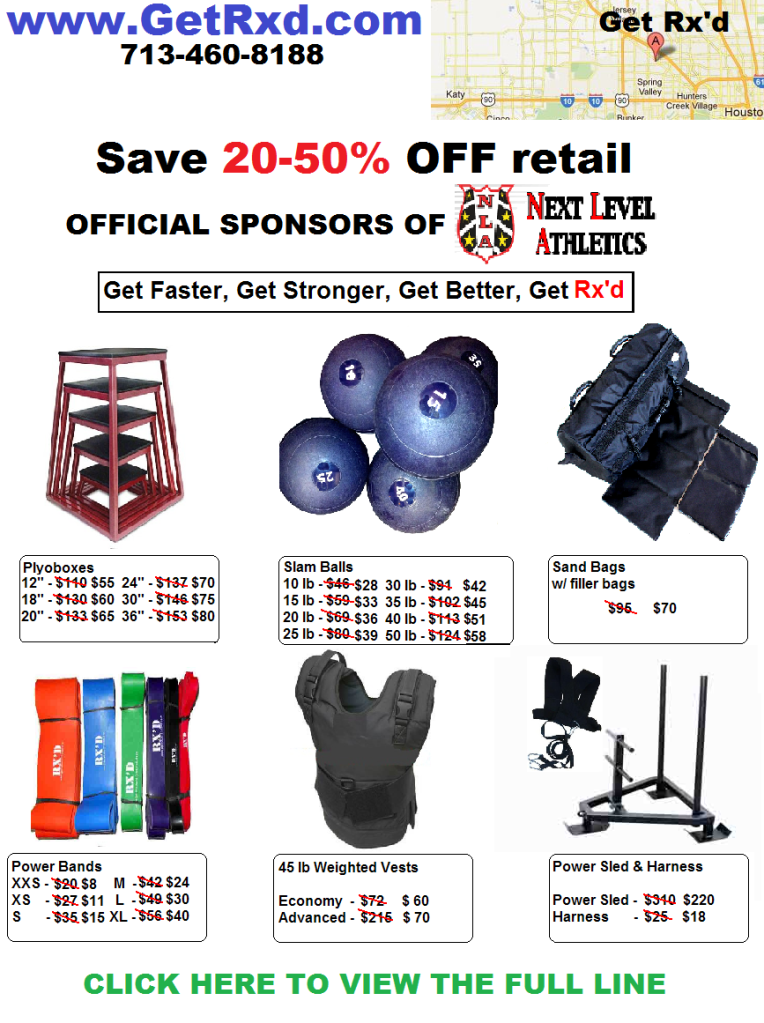 2012 is going to be an exciting year for NLA and it's 600 athletes a year! Big news on NLA Summer Camps back in 2012 with an MMA presence.
Happy Holidays to all!