NJCAA & Big Ass Fans announce new partnership
September 6, 2013

By Randy Phillips of NJCAA TV
NJCAA Announces Sponsorship with Big Ass Fans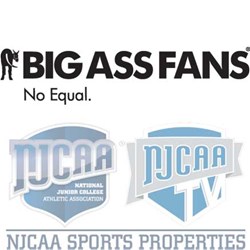 COLORADO SPRINGS, Colo. – The National Junior College Athletic Association (NJCAA), in conjunction with its multimedia rights group NJCAA Sports Properties, today reached a corporate sponsorship agreement with Big Ass Fans that names the Lexington, Ky., fan manufacturer the "Preferred Fan Sponsor of the NJCAA."

Founded in 1999, Big Ass Fans is the world's premier designer and manufacturer of high volume, low speed industrial ceiling fans for industrial, commercial and residential spaces. Ranked as one of the fastest growing private companies for the seventh consecutive year in 2013 by Inc. magazine, Big Ass Fans offers efficient overhead and vertical fans ranging from 5 to 24 feet in diameter.

Big Ass Fans has installed over 100,000 fans worldwide. In 2008 the company impressively invented a category of ceiling fans specifically for the commercial market that included health clubs, restaurants and hotels. Today, sports arenas, stadiums and training facilities are turning to Big Ass Fans to improve cooling and heating efficiency.

"Big Ass Fans provide a safer and more comfortable environment every day for athletes, coaches and spectators worldwide," said Founder and Chief BigCarey Smith. "From overhead ceiling fans to on-field misting fans, Big Ass Fans are all energy-efficient, helping reduce costs for athletic facilities."
"The NJCAA is proud to partner with Big Ass Fans," said NJCAA Executive Director Mary Ellen Leicht. "Not a day goes by it seems without hearing from one of our member colleges about cutting costs. Big Ass Fans has proven that their products can help with cooling and heating efficiency. We look forward to a great partnership with Big Ass Fans."
NJCAA member colleges will be given discounted pricing on Big Ass Fans products. With over 500 member colleges, the NJCAA is the second largest national collegiate athletic organization in the United States.
In 2012, Big Ass Fans reinvented the residential ceiling fan with Haiku®, which ENERGY STAR® rated the most efficient ceiling fan in the world. Haiku fans use just 2 to 30 watts depending on speed setting, exceeding ENERGY STAR requirements by 450 percent.

Big Ass Fans is celebrating a banner year in 2013. The company has grown to over 445 employees, with a retention rate of 93% which far outpaces the national average of 63%, and it expects 2013 revenues to reach $125 million. Big Ass Fans was also recognized by Inc. as one of America's 100 Top Job Creators. In addition, the company has been profiled this year by several prominent national outlets, including Bloomberg TV and Bloomberg Businessweek, MSNBC, Forbes, NPR and The Wall Street Journal.

About the NJCAA
Since 1938 the National Junior College Athletic Association (NJCAA) has been the governing body of two-year college athletics, offering athletic and academic opportunities to college students. The NJCAA is the second largest national intercollegiate athletic organization in the United States with over 500 member schools in 43 states. Each year nearly 60,000 student-athletes compete in one of 28 different sports and the organization sponsors 48 national championship events and nine football bowl games. NJCAA Headquarters has been located in Colorado Springs, Colo., since 1985. For more information visit www.njcaa.org.
About Big Ass Fans
The Big Ass Fan Company designs, engineers and manufactures the world's most efficient ceiling fans for residential, commercial and industrial settings. Ranging from 5 to 24 feet in diameter, Big Ass Fans pair energy efficient motors with advanced airfoil technology to circulate large volumes of air. More than 100,000 Big Ass Fans are installed worldwide, providing comfort and energy savings in applications such as homes, hotels, health clubs, schools, restaurants, manufacturing plants, distribution centers, horse arenas, dairy barns and stadiums. Visit www.bigassfans.com for more information.
| | |
| --- | --- |
| Tags | NJCAA TV • Publisher |
| Rate This Article | |
| Share This Article | |
| Facebook | |
| Google | |