CONTENTS
SPORTS
OTHER
MEDIA
IHIGH LINKS
NFL PREVIEW: SAN FRANCISCO 49ERS
August 19, 2012
Eastern Indiana Sports
San Francisco 49ers
By Kelci Baker, EIHSS SPORTS
Last year: 13-3, 1st in NFC West, lost in conference final
With the help of Jim Harbaugh the team went from a poor 6-10 to a 13-3 powerhouse. Two botched punts stopped them from the Super Bowl last year but they did find a strong running game, an elite defense, and a special teams that became the foundation for a lot of their success. They finished 29th overall in passing and 26th in defense. With their first two picks for the draft, they drafted Illinois wide receiver A.J. Jenkins and Oregon running back LaMichael James, both big-play weapons. In free agency Randy Moss and Mario Manningham were added as wide receivers while they re-signed wide receiver and punt returner Ted Ginn Jr. The defense is returning all of its starters and it's a defense that finished second in points allowed. Aldon Smith might be the only change, with 14sacs last season as a part time rusher, look for him to take a starting role at outside linebacker. Pro Bowl trio special team players include kicker David Ackers, punter Andy Lee, and snapper Brian Jennings, all remaining intact.
The 49ers really wanted to avoid a drop off in the running game like last years incident when starter Frank Gore was tied down with injuries, so in order to bypass that they've added Brandon Jacobs through free agency and James through the draft. Alongside the new wide receivers will be Pro Bowl tight end Vernon Davis, remaining a viable weapon. What we don't know is who will take the spot at right guard. The offensive line ranked 26th in sacks allowed per pass play at the end of last season. The position will either go to second year tackles Daniel Kilgore and Mike Peterson, veteran Alex Boone, or fourth-round choice Joe Looney. Greg Roman is the offensive coordinator for the 49ers and runs a West coast style of play, but we don't know if that will change now that he has speed on his side. Keep an eye on for Alex Smith to see if he can build on his resurgence from last season when he showed the ability to be a competent game manager.
Vic Fangio is the defensive coordinator for this team and runs a 3-4 style of play. Last season, linebacker Patrick Willis, free safety Dashon Goldson and defensive end Ray McDonald missed a combined seven games. Other than that, everyone was in attendance for every game. Most of their starters compiled career years. There were 38 turnovers created by the 49ers defense which were converted into 108 points overall. Hopefully, the can continue to stay healthy and present as well as create turnovers at a crazy pace. They'll have to face some of the best offenses in the league but be certain those offenses will be more wary when they come to face this unit.
Special teams coordinator Brad Seely became a head coach candidate with his quick turn around of the special teams unit. They were able to turn Akers into a scoring machine after he set the NFL single-season records with 44 field goals made at 52 field goals attempted and 166 points scored without a touchdown. Seely also helped complete a longtime goal of making Ginn a fearless returner.
After only one year as head coach, Harbaugh was able to instill a chemistry rarely seen amongst NFL teams. He and Roman helped Smith find his confidence and not only did his staff create a consistent and innovative game plan, the players were consistent in their motivations and willingness to play for him. It didn't go unnoticed as he was named coach of the year.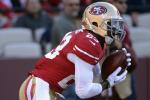 2012 SCHEDULE
Week

Date

Opponent

Game Time

1

Sep 9th

at Packers

4:15 PM

2

Sep 16th

8:20 PM

3

Sep 23th

at Vikings

1:00 PM

4

Sep 30th

at Jets

1:00 PM

5

Oct 7th

4:15 PM

6

Oct 14th

4:15 PM

7

Oct 18th

8:20 PM

8

Oct 29th

at Cardinals

8:30 PM

9

Bye Week

10

Nov 11th

4:15 PM

11

Nov 19th

8:30 PM

12

Nov 25th

at Saints

4:15 PM

13

Dec 2th

at Rams

1:00 PM

14

Dec 9th

4:15 PM

15

Dec 16th

at Patriots

8:20 PM

16

Dec 23rd

at Seahawks

4:15 PM

17

Dec 30th

Cardinals

4:15 PM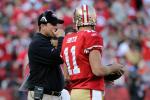 2

Akers, David

K
5-10
200
37
14
Louisville

Alama-Francis, Ikaika

LB
6-5
290
27
6
Hawaii
44

Bakhtiari, Eric

LB
6-3
250
27
1
San Diego
61

Beeler, Chase

C
6-3
285
24
1
Stanford
44

Bell, Cameron

FB
6-2
252
23
R
Northern Illinois
75

Boone, Alex

T
6-8
300
25
3
Ohio St.
53

Bowman, NaVorro

LB
6-0
242
24
3
Penn St.
26

Brock, Tramaine

CB
5-10
197
23
3
Belhaven
55

Brooks, Ahmad

LB
6-3
259
28
7
Virginia
48

Brown, Kourtnei

LB
6-6
255
24
R
Clemson
25

Brown, Tarell

CB
5-10
193
27
6
Texas
69

Butrym, Patrick

DT
6-4
285
24
R
Wisconsin
28

Cartwright, Rock

RB
5-8
215
32
11
Kansas St.
48

Celek, Garrett

TE
6-5
252
24
R
Michigan St.
20

Cox, Perrish

DB
6-0
198
25
2
Oklahoma St.
15

Crabtree, Michael

WR
6-1
214
24
4
Texas Tech
29

Culliver, Chris

CB
6-0
199
24
2
South Carolina
76

Davis, Anthony

T
6-5
323
22
3
Rutgers

Davis, Leonard

G
6-6
375
33
11
Texas
85

Davis, Vernon

TE
6-3
250
28
7
Maryland
24

Dixon, Anthony

RB
6-1
233
24
3
Mississippi St.
96

Dobbs, Demarcus

DT
6-2
275
24
2
Georgia
19

Ginn Jr., Ted

WR
5-11
180
27
6
Ohio St.
38

Goldson, Dashon

S
6-2
200
27
6
Washington
56

Gooden, Tavares

LB
6-1
242
27
5
Miami (Fla.)
59

Goodwin, Jonathan

C
6-3
318
33
11
Michigan
21

Gore, Frank

RB
5-9
217
29
8
Miami (Fla.)
54

Grant, Larry

LB
6-1
251
27
4
Ohio St.
71

Hall, Derek

T
6-5
307
24
1
Stanford
35

Hannula, Ben

DB
6-2
206
26
1
San Diego
98

Haralson, Parys

LB
6-0
255
28
7
Tennessee
13

Hastings, Joe

WR
6-0
185
25
2
Washburn
51

Holland, Joe

LB
6-1
229
23
R
Purdue
32

Hunter, Kendall

RB
5-7
199
23
2
Oklahoma St.
77

Iupati, Mike

G
6-5
331
25
3
Idaho
45

Jacobs, Brandon

RB
6-4
264
30
8
Southern Illinois
23

James, LaMichael

RB
5-9
195
22
R
Oregon
95

Jean Francois, Ricky

DT
6-3
295
25
4
Louisiana St.
17

Jenkins, A.J.

WR
6-0
192
22
R
Illinois
86

Jennings, Brian

TE/LS
6-5
242
35
13
Arizona St.
63

Jerod-Eddie, Tony

DT
6-5
301
22
R
Texas A&M
50

Johnson, Cam

LB
6-3
268
22
R
Virginia
1

Johnson, Josh

QB
6-3
205
26
4
San Diego
43

Jones, Colin

S
6-0
208
24
2
Texas Christian
7

Kaepernick, Colin

QB
6-4
230
24
2
Nevada
67

Kilgore, Daniel

G
6-3
308
24
2
Appalachian St.
4

Lee, Andy

P
6-2
180
30
9
Pittsburgh
66

Looney, Joe

G
6-3
309
21
R
Wake Forest

Manningham, Mario

WR
6-0
185
26
5
Michigan
71

Masifilo, Matthew

DE
6-3
280
22
R
Stanford
32

McBath, Darcel

CB
6-1
198
26
3
Texas Tech
91

McDonald, Ray

DT
6-3
290
27
6
Florida
49

Miller, Bruce

FB
6-2
248
25
2
Central Florida
33

Mosley, Anthony

CB
6-0
178
22
R
Kentucky
84

Moss, Randy

WR
6-4
210
35
14
Marshall
23

Nelms, Cory

CB
6-0
195
24
1
Miami
47

Nelson, Kyle

WR
6-3
240
25
1
New Mexico St.
65

Netter, Al

G
6-6
310
23
R
Northwestern
81

Owusu, Chris

WR
6-2
200
22
R
Stanford
89

Palmer, Nathan

WR
5-11
195
23
R
Northern Illinois
78

Person, Mike

G
6-4
299
24
2
Montana St.
40

Purvis, Deante'

CB
5-11
195
22
R
UNLV
88

Reuland, Konrad

TE
6-4
260
25
1
Stanford
30

Robinson, Trenton

S
5-9
193
22
R
Michigan St.
22

Rogers, Carlos

CB
6-0
192
31
8
Auburn
41

Rowe, Kenny

LB
6-3
232
23
R
Oregon
83

Sawyer, Joe

TE
6-3
262
26
R
Southwestern Oklahoma St.
62

Slowey, Jason

OL
6-4
305
23
R
Western Oregon
99

Smith, Aldon

LB
6-4
258
22
2
Missouri
11

Smith, Alex

QB
6-4
217
28
8
Utah
94

Smith, Justin

DT
6-4
285
32
12
Missouri
90

Sopoaga, Isaac

DT
6-2
330
30
9
Hawaii
27

Spillman, C.J.

S
6-0
199
26
4
Marshall
74

Staley, Joe

T
6-5
315
27
6
Central Michigan
18

Swain, Brett

WR
6-0
200
27
4
San Diego St.
5

Tavecchio, Giorgio

K
5-10
178
22
R
California
36

Thomas, Michael

S
5-11
182
23
R
Stanford
3

Tolzien, Scott

QB
6-3
208
24
2
Wisconsin
92

Tukuafu, Will

DT
6-4
293
28
2
Oregon
9

Tyms, Brian

WR
6-3
210
23
R
Florida A&M
46

Walker, Delanie

TE
6-0
242
28
7
Central Missouri
31

Whitner, Donte

S
5-10
208
27
7
Ohio St.
69

Wiggins, Kenny

T
6-6
314
24
1
Fresno St.
57

Wilhoite, Michael

LB
6-0
240
25
1
Washburn
93

Williams, Ian

DT
6-1
305
22
2
Notre Dame
10

Williams, Kyle

WR
5-10
186
24
3
Arizona St.
52

Willis, Patrick

LB
6-1
240
27
6
Mississippi
| | |
| --- | --- |
| Details | 140 Views |
| Tags | Eastern Indiana Sports • Publisher |
| Rate This Article | |
| Share This Article | |
| Facebook | |
| Google | |
Partner
Partner