Need a DB? Go to Creekside High
May 24, 2011
Creekside High School
By Jamie Newberg
ESPN Recruiting
FAIRBURN, Ga. -- For Creekside (Ga.) High School, it could be a secondary to remember. Coach Johnny White has an incredibly talented defensive backfield, loaded with both young and experienced elite talent.
"It's unbelievable," White said. "To be able to coach this group is something else, and once we all get on the field together we have a chance to be pretty special. They are so talented and so athletic. The talent is scary."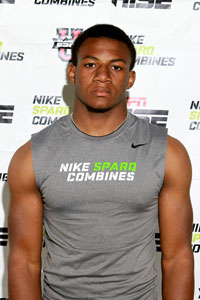 Tom Hauck for ESPN.comESPN Watch List DB Josh Holsey has doube-digit offers, including Georgia, Virginia Tech, LSU, Auburn and Georgia Tech.
Manning the cornerback positions will be Virginia Tech bound
Davion Tookes
and uncommitted
Joshua Holsey
, who's a member of the ESPNU Watch List. Both are blessed with blazing speed and super ball skills.
"You get pushed every day," Tookes said. "We are all competing. The older guys are helping the younger guys. We are teaching, and the more you see these young guys play you say, 'Wow'. We can be really good."
Holsey has become one of the hottest defensive prospects in the Peach State over the past several weeks. He has two dozen offers, including Georgia, Virginia Tech, LSU, Auburn and Georgia Tech.
"It's been a great few weeks," Holsey said. "Right now my three top schools are Auburn, LSU and Virginia Tech. I just try and do my job the best I can and make plays back there."
Former Creekside and Tennessee star Eric Berry, now with the Kansas City Chiefs, has younger twin brothers -- Evan and Elliot -- who star for his former high school. Evan started at quarterback and safety last season as a freshman, while Elliot finished up playing defensive end and will be the starter there this season. Evan is already one of the most electrifying athletes in the state, especially with the ball in his hands. Last season as a freshman he accounted for over 2,600 yards of offense and 33 touchdowns.
"They are unbelievable," White said. "They have a chance to be like Eric, but in their own way. Evan is smaller, about 5-11 and 185 pounds, while Elliot is 6 feet and 195 right now. I can see him leaving here at 225-230 pounds. [Elliot] runs a 21.9 200 meters, and Evan is a 10.8 100-meter guy. Remember, they are still freshman with a lot of football left."
As if that's not enough, Creekside is expecting incoming freshman Deontre Turman to start at the other safety spot. Already 5-foot-10 and 180 pounds, he has a giant reputation, even though he hasn't played one down of high school football. Talk with White, Creekside assistant coach Bernard Williams, Tookes, Holsey or one of the Berry brothers, they all say the same thing: Turman's ability is off the charts.
"The kid is special," White said. "I mean, he has skill you only see in guys like Eric Berry. He can be another Eric Berry. He's freaky and he will start for us at safety and play receiver. He's fast and he will hit you. He's incredibly athletic. The kid is only 13 years old but we expect big things from him."
There's no question that this is a big-play secondary. Tookes, a converted track guy, played his first full season at cornerback last year. Despite playing with a cast on his broken hand, he had three interceptions and returned them all for TDs. The best part? They were returns of 93, 98 and 108 yards. Holsey has 19 career picks, including 10 last year. Not to mention, the trio the Berry twins and Holsey combined for three of the four members of the school's 4x100 relay team that won the state title last year.
"Everyone is coming by to see these guys," White said. "We had 16 schools come by in one day. Five came here today before 10 [a.m.]. It's crazy. But these guys are all that good."